Mz. imani has been playing the drum since 1986, when she was inspired by the passion, spirit, and presence of Babatunde Olatunji. Since that time, she has been the vehicle for many to find the drummer that lives within their soul. Working with Olatunji's language of the drum, West African rhythms and original works, Mz. imani brings a special magic to any group that wants to experience the pure joy of allowing their inner spirit to take voice.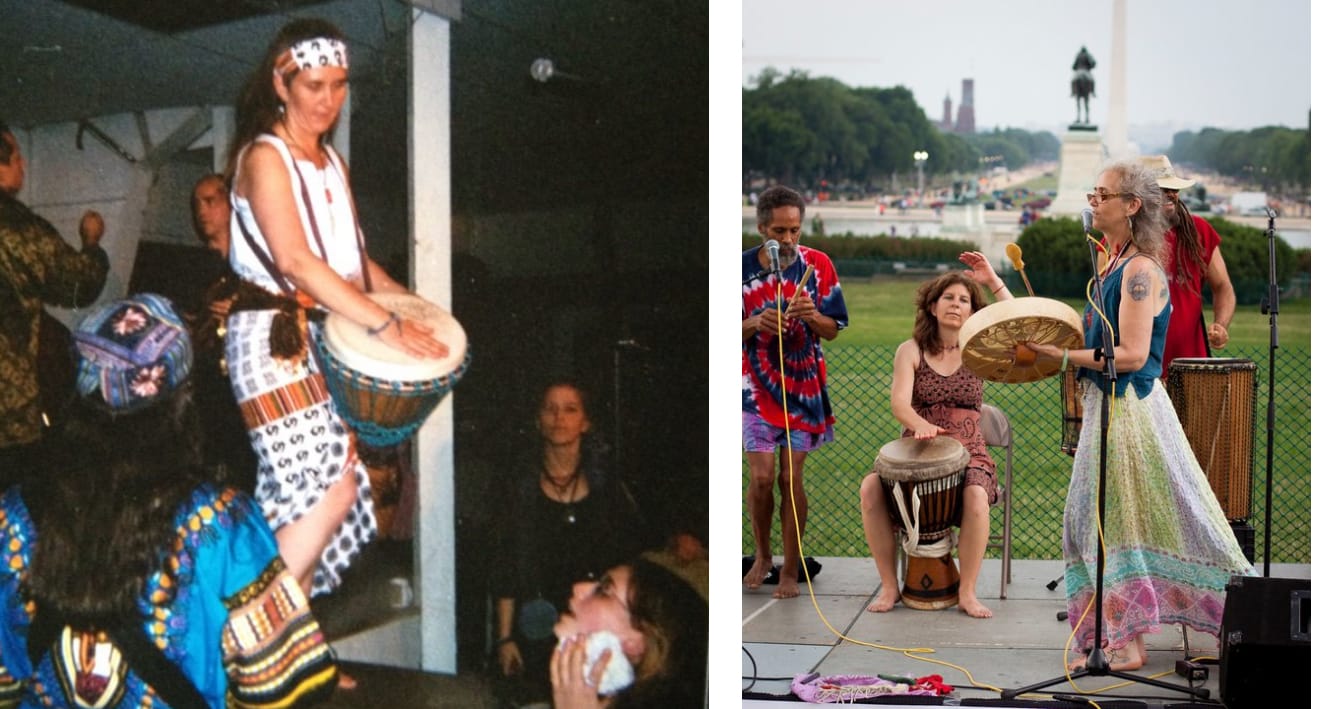 Before discovering the drum, Mz. imani was a professional massage therapist. Her interest in transformational healing has led her on an exploration of the dynamic powers of the vital life force, music, drumming, ritual, ceremony, alchemy and modern shamanism – as they relate to healing the human spirit.


Mz. imani is a respected instigator within a modern ceremonial all night fire circle community for nearly 30 years. Mz. imani stARTed playing drums at a thyme when it was unusual for women to have access to the drum, as there were few teachers who would take on women as students.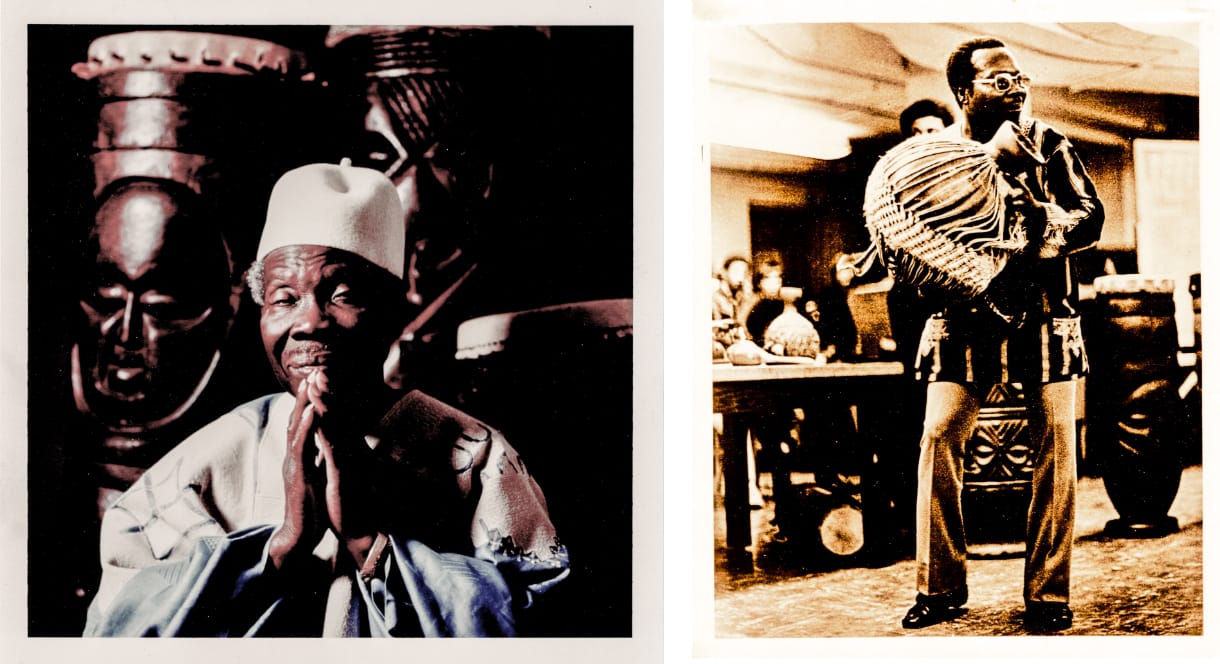 Her first teachers were Babatunde Olatunji and Darrell Rose. She was blessed to walk closely with Olatunji for many, many years eventually organizing some workshops for him (Asheville, NC), playing on stage with him and bringing drums to his workshops in the US and Canada. Darrell Rose took Mz. imani under his wing and worked with her every 2 weeks for 2.5 years. She traveled to Nashville Tenn to study and train with Darrell.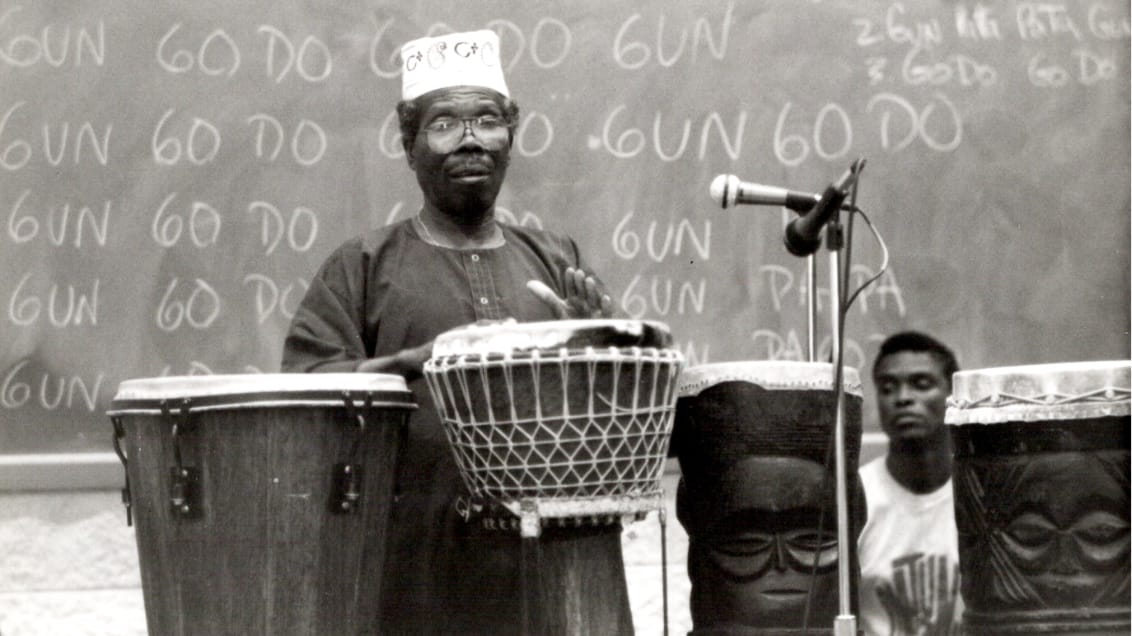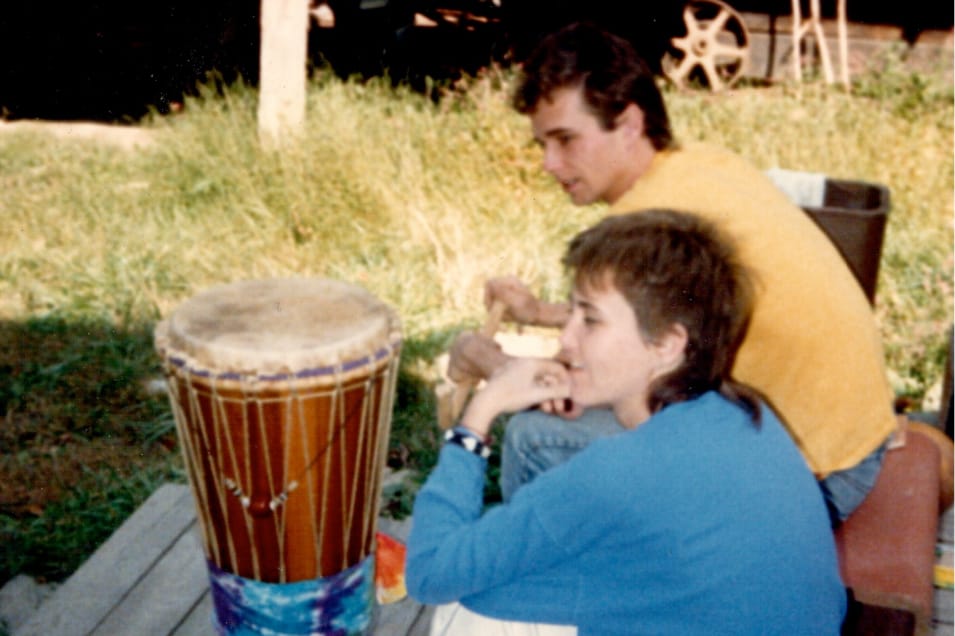 In 1988, with Olatunji's blesSINGs, she co-founded Rhythm Alive!, a drum making company and performance ensemble, and began writing a lot of music. She volunteered her time playing for children with special needs, taught women's drum classes and saw first hand the healing power of the drum. Through these early experiences she was consistently shown the impact of the drum, and this changed her life!


With hindsight, helping to raise the free-quency and root more deeply. By choosing to bring the drum to the children and the women, she found a way to plant seeds that can influence society, as the women and the children are the change makers. Rather than get frustrated, she got active, and Babatunde Olatunji, Darrell Rose, Joe Roberts and many others opened the door for women to come to the drum. Mz. imani WErked within the South Carolina Arts Council Artist in Residence program from 1992-1995.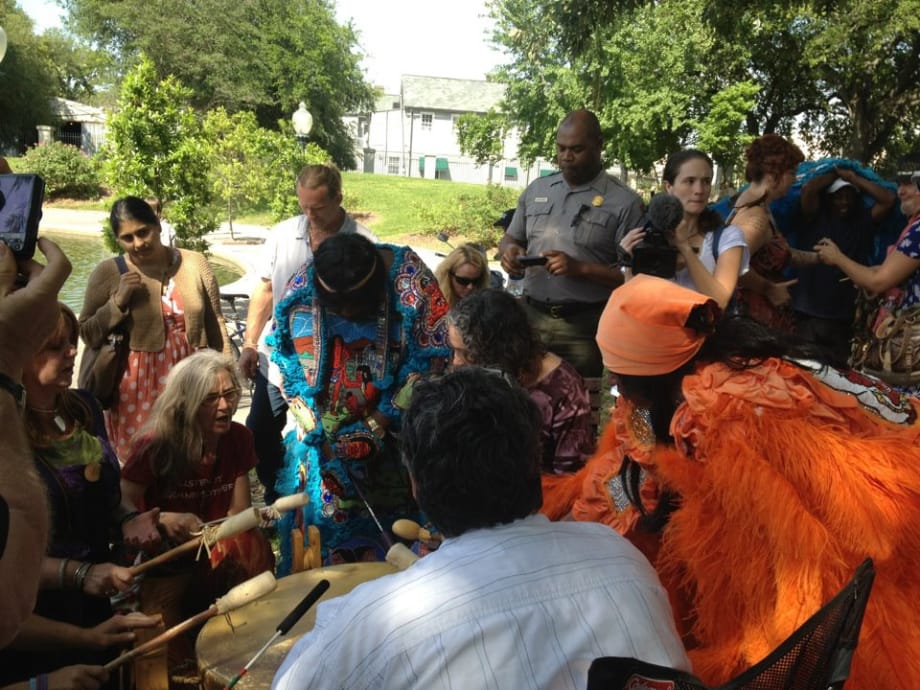 In 1990, having met Jimi Two Feathers, Mz. imani was invited to facilitate within the Earth Drum Council community in Massachusetts. They were looking for a woman drum teacher, as the women in the Boston area were being disregarded when they showed up to learn to play the drum. In the EDC community gatherings were organized and co-created where sacred space was held to explore what it means to be a woman drummer, dancer or ceremonial musician, as modern people in a modern community that celebrates the Ancient Arts. This is where all the seeds planted in Mz. imani's soul germinated, and she moved to Massachusetts in 1994 to work more closely with the Two Feathers and Earth Drum Council.


Mz. imani facilitated the Full Moon Drum + Dance at CoSM (NYC 2004-7) and monthly drum and dance of SoulFire Inside (DC 2004-6). She has been a guest musician and facilitator at many conferences, convergences and ceremonies in the US, leaning into the drum and her voice to help weave a collaborative space of celebration.


As a longstanding member of Turtle Women Rising, Mz. imani helped organize and support the TWR Vigils for Peace in Washington DC (2008, 2010) and New Orleans (2012), where she met the Grandmothers Council. Mz. imani traveled the WErld as a ceremonial musician and personal assistant to the grandmother's council and has walked with herbalists and conservationists, bringing her sonic blesSINGs to the edges of the wild and the heART center of this global ceremony we are in service to.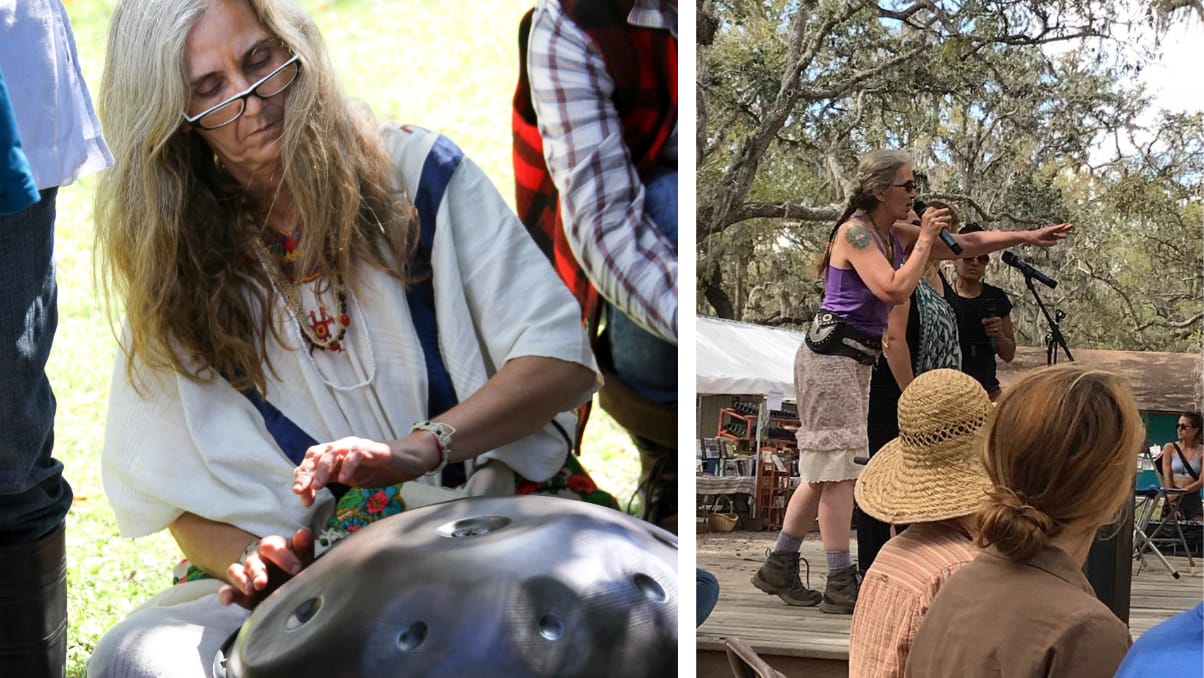 In 2013, Mz. imani returned to Western North Carolina, as the mountains called her home. Through dreams and synchronicity she was guided to settle her roots into this land, which is the home place of the Cherokee people. This is the land where she found sanctuary as a child, the land where her children were born, and the land where she was first given the drum and the sacred fire by Babatunde Olatunji, in 1986.


Mz. imani resides in Swannanoa, NC and is the curator and land keeper for SoulFire Sanctuary, home to the 18th Peace Chamber. Since 2014 she has been renovating the chamber to welcome people back to nature to drum, dance, sing and pray for peace.


There are 74 Peace (Sound) Chambers that were inspired by the visionary work of Joseph Rael (Beautiful Painted Arrow), and this chamber is the 18th one that was built. while not having trained or met Joseph, she is in resonance with his teachings and is in resonance with his wer as a visual artist, writer, storyteller, elder and visionary being.


In 2017, by her fathers request., Geraldine Rael, accepted leadership to care for her fathers legacy. To learn more about Joseph and Geraline Rael, please visit www.geraldinerael.com



When the pandemic arose in 2020, Mz. imani leaned into online communities of the Web of Love and Good of the Whole, which were formed to support people through the isolation times of Covid-19. Weaving the potency of the land and nature, with zoom, she continues to open and hold circles where people gather, to celebrate life.


In 2021, Mz. imani co-founded a council called Ancient Arts Revival with Sangoma Oludoye, Eli PaintedCrow, Suzette Pena and mARTin Diggs. As we lean into the Ancient Arts we are making space to connect rather than convince. We are here to encourage the many conversations that are waiting to be had. Conversations, that will inspire and revive our capacity to thrive, by sharing practices, perspectives and tools to help us personally unpack privilege, recalibrate how we think, so to walk closer to the Principle Line, with a sense of Radical Neutrality and Purpose. We do this to help heal ourselves and recalibrate generational trauma, to model ways of relating that are aimed to dismantle power over paradigms and humanities return to respect.




As a Grandmother and ceremonial musician, Mz. imani recognizes that we live in a thyme when inclusive ceremonial containers dedicated to the evolution of our species, are called for. Her Life, her WErk, and her care with SoulFire Sanctuary is guided by this and other principles of collaboration and respect. She understands the/her calling and primary response ability: to Help the heART of Humanity to Heal, One Fire At A Thyme, Simply By Showing Up.